7 Challenges Facing Your Basement Remodel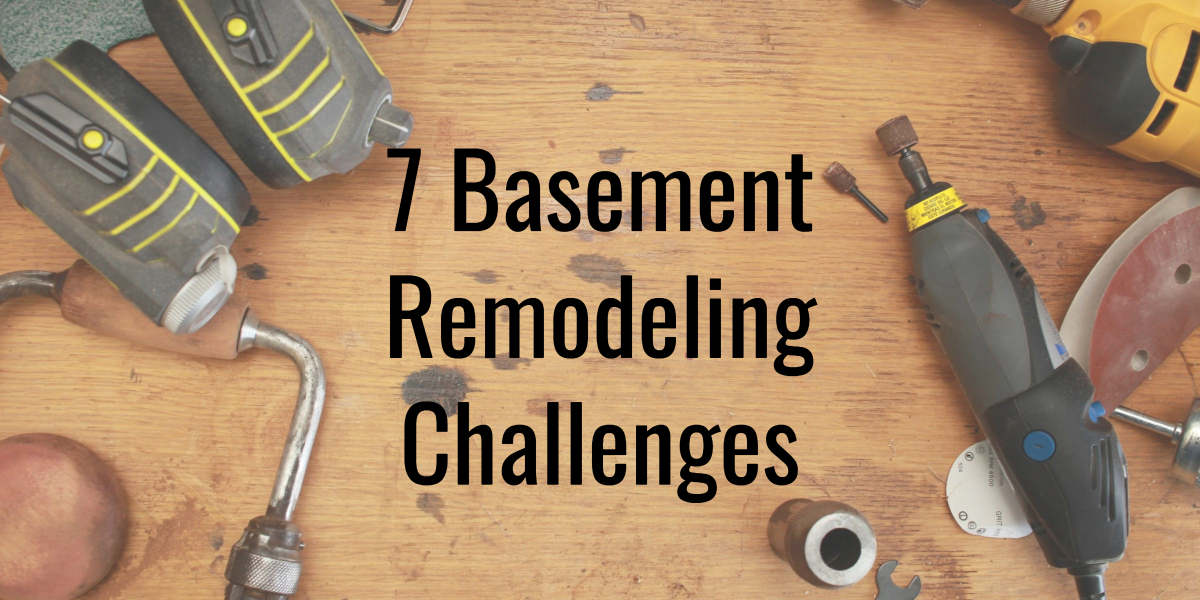 Are you running out of space in the upper levels of your house? Wish you had an extra room? You just might have some potential untapped square footage if your home has an unfinished basement. Remodeling or finishing a basement can be an extremely difficult process, but if you know what issues to look for early you can avoid headaches before they begin!
Moisture Issues
If you have significant moisture, you may not even be able to finish your basement. But keep in mind, this only applies for major moisture issues! If the issue is minor, you can have it treated with water-lock paint or seal cracks with special caulking. Got drainage issues? Consider installing a substrate to elevate your floor.
Ceiling Heights
Common clearance requirements are 7 to 7 1/2 feet in building codes. Your unfinished basement may not have that; this might mean having to dig out and lower your concrete floor. This is a difficult job and will require help from a professional.
No Egress
If you're adding a bedroom to your basement, you will need an egress (an exit point that is not the doorway). Don't try to get around this step by calling your bedroom by a different name; installing an egress could be a lifesaver. Besides that, the large window can be a valuable source of natural lighting in an otherwise dim basement!
>>In-Law Suite Basement Remodel in Frederick, Maryland>>
Low-Hanging Pipes
No one wants to bump their heads on exposed plumbing fixtures. The best solution to this is installing a false ceiling with ceiling tiles. Luckily, if this is something you need to do, your options range beyond the typical office space-looking tiles. Do a little shopping and try to find a tile that is both functional and fashionable.
Support Columns
Your contractor may need to install support columns if there aren't any already in your basement. Don't be alarmed – you can turn these columns into design elements by using them as a natural base for a new wall or partition!
>>Top Tips for a Successful Basement Remodel>>
Insulation
Remember that little thing we mentioned earlier by the name of moisture? Not surprisingly, insulation has a dual purpose: keeping the warmth in and the cold and wet out! Make sure your walls are well-insulated for the best temperature control results.
Insulating your pipes as well will help prevent heat loss for hot water and will prevent condensation from forming on the cold water pipes.
Lighting
A basement, by it's nature, is a dark space. If you're looking to make it a livable area, you'll want to make sure you have a good balance of natural and synthetic lighting. Recessed can lighting is a popular option as it tucks into the ceiling well and projects lighting out in wider rays.
Central Maryland's Basement Remodeling Experts
For more than 25 years, the skilled team at Adroit Design Remodeling has completed functional, custom basement remodeling projects in homes all across central Maryland and Virginia. Whether you want to turn your basement space into a home bar, exercise room, play area, or extra bedroom, we can help! Contact us today for your free consultation.