Bathroom Remodeling
Skilled Bathroom Remodeling in Frederick, Leesburg, and Beyond
In the past, bathroom design was more a matter of function and less about style. Today, with many homes having as many, or more, bathrooms as they do bedrooms or people, bathroom design has taken on a new importance.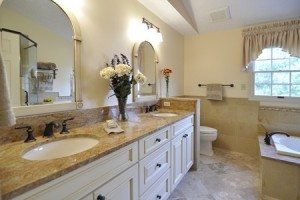 Bathrooms come in many forms, including:
Master bathrooms with a tub, shower, dual sinks, and vanities;
Secondary bathrooms, typically with a tub, toilet, and vanity; and
Powder rooms with a sink and toilet.
Each type of bathroom creates its own unique challenges in design and function. The experts at Adroit Design Remodeling have years of experience remodeling bathrooms of all sizes and to fit all styles.
Every bathroom remodeling project is different, and reasons for remodeling a bathroom can include wanting a quick design refresh, renewing or starting over with a completely different design or layout, and expanding the bathroom by adding onto a home or expanding into an adjoining room. The professionals at Adroit Design Remodeling can walk you through the entire remodeling process, from choosing a new layout to deciding on fixtures, lighting, tile, cabinetry, and glass. We keep your family's needs in mind at every step, giving you the best quality products and design while staying within your set budget.
Contact the team at Adroit Design Remodeling today to talk with an experienced design consultant so you can get a bathroom that is both functional and appealing.