Home Remodeling in Frederick, MD
Kitchens, Baths, Basements, and More!
With over 25 years experience in kitchen, bathroom, and home remodeling, Adroit Design Remodeling offers personalized service with high construction and finish standards in Frederick, Maryland. While offering both quality and value to our Frederick, Maryland home remodeling clients, we strive to provide a streamlined and customized process that includes a no-cost on-site consultation. During the consultation, we work together with you to define your goals, discuss the project, and establish a budget within your parameters. Read on to learn more about our home remodeling process and offerings in Frederick, Maryland.
Frederick is a city in Frederick County, Maryland. As part of the BWI metro area, it's located in a major crossroad of travel historically and modern day. There are over 65,000 residents of Frederick, which makes it the second largest city in the state. Frederick's largest employer is the US Army's Fort Detrick. Wells Fargo Home Mortgagne, Leidos Biomedical Research, and United Health care are the top employers in the city. On the first Saturday of every month, Frederick hosts First Saturday. Each Saturday has a theme, and the event spans a ten-block area and an average of 11,000 visitors attend the event. 
Kitchen Remodeling in Frederick, Maryland
Does your kitchen need a renovation, expansion, or a fresh look? Adroit Design Remodeling understands that the kitchen is more than just a place to cook! Offering both function and social needs, the kitchen is often referred to as the "heart of the home" and operates as the entertaining centerpiece of your home while providing your family with practical food preparation space. We work together with you to provide not only a functional kitchen but a stunning one as well. Check our gallery of kitchen remodeling projects by Adroit below:
Basement Remodeling in Frederick, Maryland
Adroit Design Remodeling has created home theaters, game rooms, exercise rooms, bedrooms, and more for over 25 years by providing a service that both understands our clients' needs while considering factors such as moisture issues, low ceiling heights, and more. During our no obligation on-site consultation, our team of designers will help you find creative solutions to these problems while achieving more living space in your home.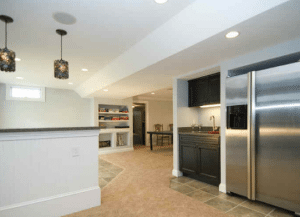 Additional Remodeling Services in Frederick, Maryland
Historic Home Remodeling
Porches, Decks, and Sunrooms
Home Repair and Maintenance
Contact Adroit Design Remodeling today to schedule your free consultation!