Basement Remodeling
Quality Basement Remodeling in Maryland & Virginia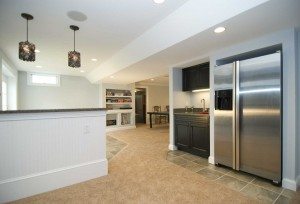 If you have a finished basement, you know the value it can bring to your home. And if you don't have a finished basement, you may be considering getting yours finished for some extra space.
The beauty of most basements is they're counted as "bonus" space, so they aren't already dedicated to bedroom or bathroom space. They're often a blank canvas of empty space, giving you the opportunity to create a room that will fit your needs.
At Adroit Design Remodeling, we've helped families throughout Central Maryland and Northern Virginia create:
Successfully remodeling your basement requires a team experienced in the challenges of basement construction and design, including:
Moisture/dampness issues

Low ceiling heights

Lack of egress

Low-hanging pipes & ductwork

Location of support columns

Location of plumbing drain pipes
At Adroit Design Remodeling, we have years of experience navigating even the most complicated basement remodeling projects in Maryland and Virginia, giving our clients the spaces they envision with minimal disruption to their lives.
From your first call to your final walk-through, the talented team at Adroit Design Remodeling keeps your needs, your budget, and your timeline in mind, giving you the best remodeling experience anywhere. You work directly with our design team to bring your dreams to life. Schedule your free consultation today!
Adroit's design team can help you find solutions to these factors to create a basement that is both functional and appealing.
Get started today by contacting Adroit Design Remodeling to arrange to have an experienced design consultant show you how our design process can help you achieve more living space and functionality by remodeling your basement.