Top Tips for a Successful Basement Remodel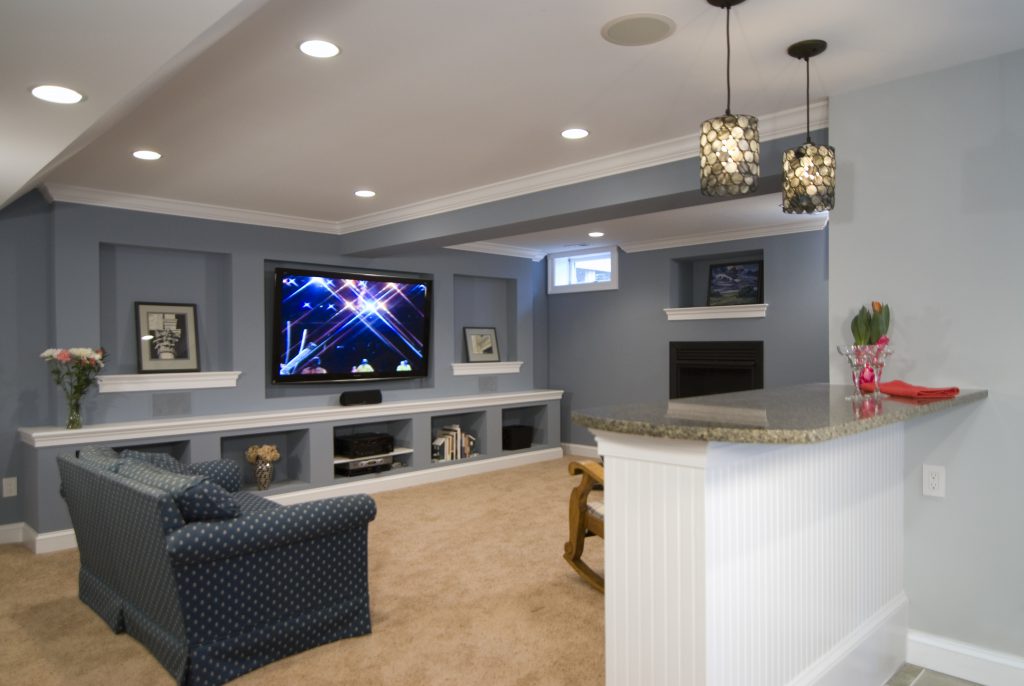 Remodeling your basement into usable living area not only gives you and your family more space, it can increase the value of your home. Here are seven key things to remember to discuss with your contractor when planning a basement remodel:
Take the time to make sure your basement is waterproof
Before beginning any basement remodeling project, carefully check for any water issues. Key signs of water intrusion are pools and drips coming off below-ground walls, as well as water damage and bubbling paint. Find the sources of these drips and have them repaired. If water issues are really bad, consider adding a basement dewatering system to your plans to help protect your new remodel. Adding a vapor barrier to the walls and checking for water intrusion after a few days is also helpful. Outside your home, look to see that the ground is graded away from the foundation to avoid pooling and seepage. Check the foundation for cracks that could let in water and repair them.
Winterize to stay comfortable all year long
Since heat rises, your basement will always be the naturally coolest place in your home year- round. This is great in the summer, but can make your new space unpleasant in winter. To help keep your basement enjoyable no matter the weather, you may want to consider upgrading the insulation. For traditional rolled insulation, find a brand that includes a vapor barrier on both sides to help keep moisture at bay. If your local building codes and your budget allow it, consider spray foam insulation. It is less likely to sag and shift over time, creating spots where the air can move.
Consider zoning the basement for optimal heating & cooling
Most basements are controlled by the first floor thermostat. Having a separate zone and thermostat for your basement means the system only runs when required. It saves money in the long run and maintains the temperature and humidity more effectively. Adding a separate zone will ensure your comfort level is maintained in the basement.
Talk to your contractor about the permitting and inspection process
Your contractor will create a set of permit plans that are given to your city or county permitting department. Upon final approval your contractor will receive a stamped set of the drawings that are kept onsite. These drawings will be used by the contractor and the inspectors to make sure that changes are done per approval and by code.
Don't forget storage space!
An unfinished basement is a prime dumping ground for all your holiday decorations, off- season clothing, and "maybe someday we'll have a garage sale" totes. But when you decide to make that area finished space, you lose all that extra storage. First, sit down and deter- mine exactly what you need to keep in your basement. What things can be moved to other locations? What can leave your home and your life for good? Think about what you want to have accessible in your basement, and over-estimate the amount of space you think those things might require. Consider building a closed-off storage room into your plans, along with sturdy built-in shelving. High-quality, custom-made shelving will hold more and be more durable than anything you will buy in a store. Take the opportunity of the remodel to purge unnecessary items and carefully organize those that stay. Sort like items into plastic tubs and label them. Keep a record of what is in your storage area so you spend less time looking for those winter coats once cold weather hits.
Choose appropriate flooring
Take some time to think about what you want in your space. Don't forget to think about the floors. Finishing basement floors can be as simple as painting and sealing already-existing concrete and adding area rugs for warmth. Wall-to-wall carpeting can help make a larger, cooler space seem more inviting. If your existing floor is relatively flat, tile or linoleum could be an option. One of the main factors to consider in this step is pricing. If you want to save room in your budget for other features for your new basement, maybe sealing your existing floors and purchasing area rugs is the best option. A little extra money for flooring could mean the difference between low-pile utilitarian carpeting and plush, soft flooring. No matter what you choose, make sure your choice suits your overall hopes for how your new basement will feel.
Select a high-quality contractor
This is the most important step of all, and can give you another person to help you remember all the other steps on this list. Interview a few candidates. Ask to see photographs of their past work. Be sure to get the terms of your contract in detail and in writing. Make sure your contractor is licensed and insured. If you take the time to hire a quality contractor, all the other items on this list will fall into place.
Plan your basement remodel using these seven helpful tips and you will be well on your way to that cozy, inviting room where your family gathers to watch movies, or that office space that helps your small business grow. Contact Adroit Design Remodeling today to begin your basement project!