Senior-Friendly Basement Remodeling Tips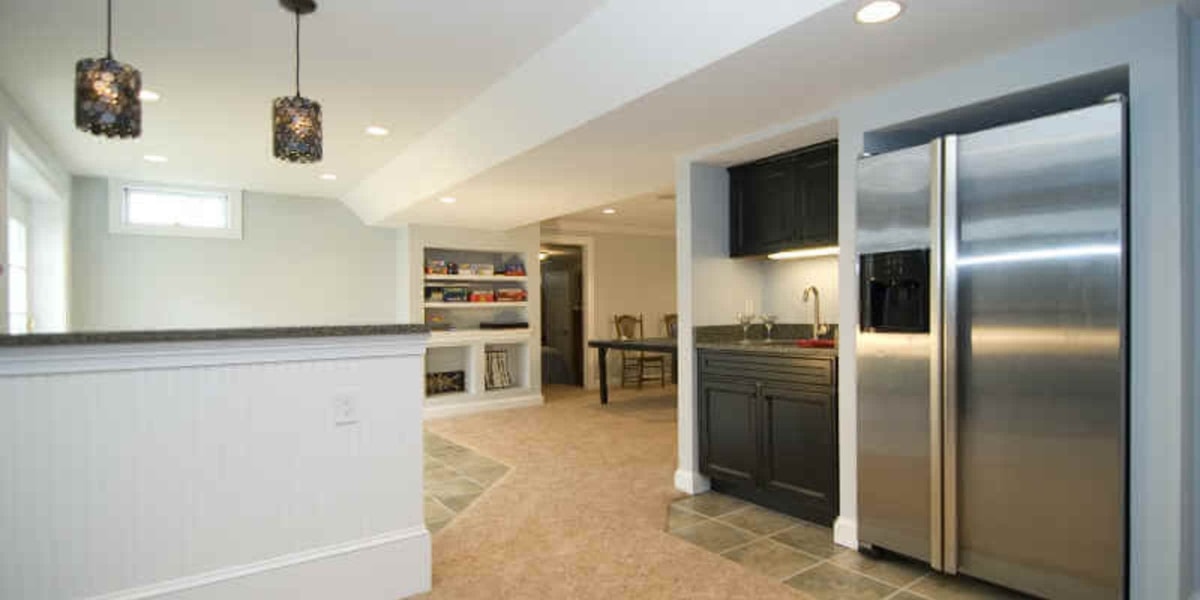 Preparing for mom or dad to move in with you can take a lot of work. You want to make sure they are happy, comfortable, and, most importantly, safe. For many people, the basement is the only available spot for a parent to move into. But what if your basement isn't exactly senior-friendly? Don't worry – there are some solutions and tips you can use during your basement remodel to make it a great in-law suite!
ADA Compliance
Following the Americans with Disabilities Act (ADA) guidelines is a great place to start if you're not sure how to make your basement senior-friendly. They recommend heights for electrical outlets (18 in. compared to 12 in. off the ground), width of doors (36 in. wide to accommodate wheelchairs), bathroom counter heights (36 in.) and amount of handrails. A little research will go a long way in making sure your basement is safe and accommodating, whether or not your senior has disabilities. By abiding by the guidelines, you'll be prepared for any future changes in conditions.
Handholds
One of the most important things you can install in your basement to make it safer is sufficient railings and grab bars around the space. If you're not ready to put the grab bars in right now, and if you're remodeling the space already, then it would be smart to add the blocking during the remodeling process. Blocking is wood behind the drywall or tile that will allow you to install grab bars in the future.
If you aren't going to be installing a lift to go upstairs, it's critical that you have sturdy railings or banisters along the staircase. Many railings or banisters are more for show than support, so check the structural integrity of yours to make sure you can completely trust the stability.
Handles & Control Knobs for Faucets, Drawers, & Appliances
Lever-type door knobs are much easier to turn than your average knobs or two-handled faucets. For faucets in particular, think about installing a single lever that controls both hot and cold water, making it easier to avoid burning yourself. You can even get faucets that turn on automatically so you don't have to worry about handles.
Also, take a look at the handles and knobs that control your appliances; especially consider the knobs that control the stove and oven. Can you reach them without burning yourself on the stove, even from a wheelchair or disabled position? Installing the correct handles can save your loved one from a lot of pain in the future.
Lighting
A major factor in keeping seniors safe is providing adequate lighting, both inside and outside the space they'll be living in. If your basement has a door leading out to a backyard or patio, installing a storm door to allow more natural light in is a great investment. If windows are sparse, consider the use of lighting that can be controlled with a dimmer switch or flat switch (easier to turn off and on than a typical light switch) to adjust the brightness with the time of day.
Cabinet lighting in the kitchen and bathroom can be useful as well. LED light strips can be installed so the user can find what they're looking for with ease. LEDs are ideal since they don't get hot.
Just like lighting inside, lighting outside is just as important, especially if there is any uneven terrain to navigate.
Consider Colors
To complement your efforts with the lighting, paint walls a light color to help with visibility inside. In addition, utilize contrast so anyone with eyesight that may not be as good as it once was can easily see where things begin and end. For example, the inside of a kitchen drawer can have a contrasting lining, or the carpet around the coffee table is a bright red to the tan floor.
Electric stoves also factor in here, surprisingly. The fact that the burners turn bright red when on and hot can be a major help in avoiding burns!
Security & Safety Measures
Do you have a secure lock on all of the windows and doors in the basement? Is there proper motion-activated lighting around entrances? Have you considered installing an intercom so you and your loved one can communicate in case of an emergency? These are important questions to ask to make sure your loved one is secure in their own space.
As for other safety measures, think about falling and slipping hazards. Ask about flooring choices that allow for easier movement if your loved one will use a walker or wheelchair.
All of these small details will go a long way to making your basement remodel senior-friendly for mom, dad, or any loved one who may need to utilize your basement as a living space. When you're ready to get a jump on your basement, contact the professionals at Adroit Remodeling to start the process and turn your basement into a welcoming and senior-friendly basement!