5 Tips for a Stress-Free Remodeling Project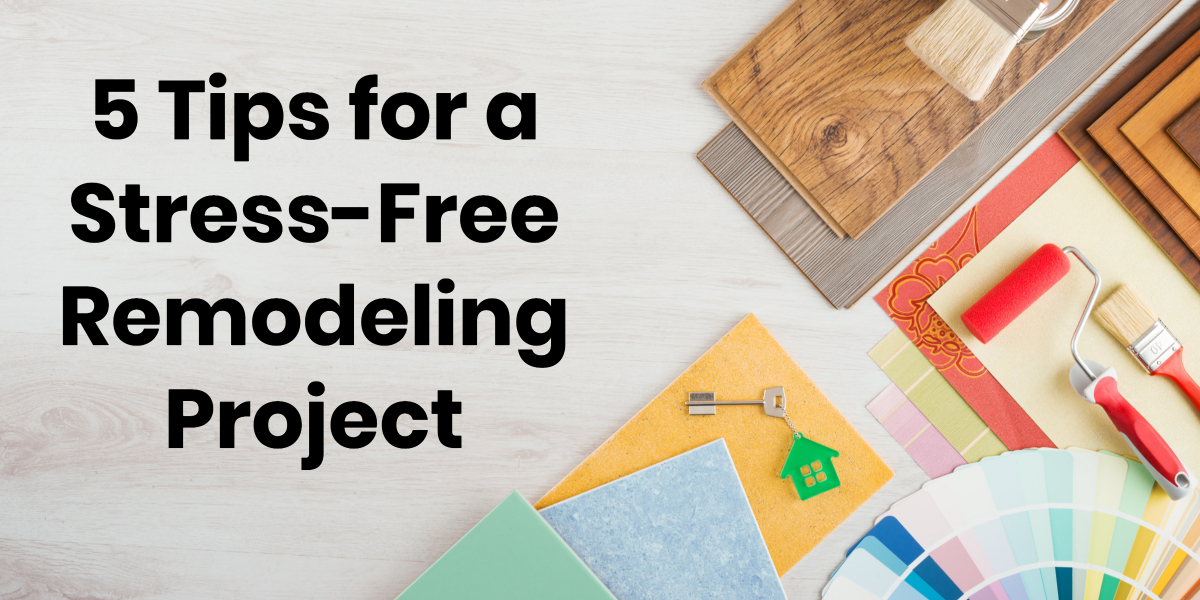 You've heard the remodeling horror stories: Your friend's cousin's neighbor had to live with no main-floor flooring or a gutted master bathroom for six months. Your boss's uncle's best friend's kitchen remodel went over budget by thousands of dollars, and he didn't know it until the final bill came in the mail.
While there is some truth to some aspects of some of these stories, that's by no means something you should expect. If you take some proactive steps, your remodeling project may even be a pleasant experience!
5 Tips for a Stress-Free Remodeling Project:
Maintain a Routine
Ask your contractor about ways you can keep your life relatively normal. For example, see if there are ways to simulate temporary areas to substitute the ones being remodeled, like a kitchen. Having a space that functions like your normal room would is a small step to making sure you stay sane in the remodeling process.
Stay Organized
By keeping all of your ducks in a row, you should be able to decrease some of the craziness that is outside your control.
Start a notebook that contains rough sketches, clippings of ideas, and even copies of your contract with your contractor. You can keep a copy of your budget here, too, for quick reference. Really, a three-ring binder with any and all materials related to your project will come in handy.
A big aspect of staying organized is keeping communication lines open with your contractor. Throughout the process, you want to work with someone who is going to be transparent with you and who will keep you updated as the project progresses.
>>5 Questions to Ask When Choosing a Contractor>>
Expect the Best, Prepare for the Worst
We all hope that our plans will turn out exactly as we dream; but in reality, sometimes there are roadblocks. Remodeling your home is no different. To get through this (possibly most) stressful part of your project, plan at the beginning to have a reserve emergency budget that is 10%-20% of your project's cost. This way, if someone goes astray, you're ready to deal with it and aren't left blindsided. Best-case scenario? You have some extra money now saved that you can use for something that you wouldn't otherwise purchase!
Consider Others
Your remodeling project will, of course, mainly impact you and your family. But remember that you have neighbors and possibly pets that will be impacted, too!
Your neighbors should be notified of your project so they can be prepared to deal with the noise that may spring up. They may have young children or early work days, so if you can, try your best to be accommodating.
As for your furry friends, talk to your contractor about safety precautions and way to keep your pets happy during the process. Bigger projects may require you to board your pets or have them take a vacation at a family member's, but otherwise your contractor should be able to work with you to keep them safe.
>>How Long Does a Kitchen Remodel Take?>>
Enjoy the Process!
While it may be a lengthy and stressful process sometimes, remodeling projects are rewarding in the end. Just keep in mind the vision you have for the space and remind yourself of the reason behind the project. As you watch the process evolve, you will certainly enjoy the transformation!
Contact Maryland & Virginia's Premier Home Remodeling Contractor
At Adroit Design Remodeling, we have more than 25 years of experience helping homeowners navigate the home renovation process. We work with your to make the process as painless and enjoyable as possible, which is how it should be! Contact us today for your free consultation!