11 Ideas for Your Basement Remodel
Remodeling your basement is a big project full of possibilities. So many possibilities you may not even know where to start! The first step in figuring out what to do with your basement is looking at your lifestyle and what your needs are. With that in mind, you can start brainstorming all of the different ways you can use your basement! Still stuck? Here are some ideas we've put together to get you started toward a fun and useful basement.
Hosting parties just got a lot more fun. Adding a home bar to your basement gives you a great entertaining space or even just a spot to have a stay-at-home date night with your partner. A bar can be set up for a variety of uses including an ice cream counter, soda shop counter or even a movie theater style with a popcorn machine.
Wine Cellar
Even the smallest of basements can be turned into something useful, like a wine cellar! If you're a fan of having the finest on hand to impress guests, a collector, or just enjoy a nice glass of red with that steak you grilled for yourself, having a wine cellar could be the luxury you need.
Home Theater
You won't want to leave the house for those summer blockbusters once you have your very own home theater! Installing a projector and theater-style seating will make your remodeled basement the go-to for family movie nights, sleepovers, and even the big game. Add in a popcorn maker, and you're good to go!
Workout Room
"I didn't have time to go to the gym" and "It's raining outside" are no longer excuses. Hold yourself accountable with your very own home gym! Stock it with equipment, yoga mats, a TV, and maybe even a water cooler for those especially hardcore workouts.
Play Area
Kids love having their own space to spread out and use their imaginations. Creating a colorful basement with tons of storage and room to move and play is a great option for remodeling! Your kids will love having a part of the home to call their very own.
Game Room
If your kids are too old for a playroom, or you just want a space to have some fun and relax, a game room might be the best option for your basement remodeling project! Adding fun lighting, a pool table, and other arcade-style features could turn your basement into an entertaining escape.
Craft Room
Your hobby might be taking over other areas of the house; your dining room, kitchen, even bedroom! Why not make an entire space for it? Consider remodeling your basement to make a room specifically for sewing, scrapbooking, or whatever else you want to create that day!
Laundry Room
Creating an area in the basement for a laundry space allows you to truly spread out, getting rid of the cramped upstairs laundry spaces you may be used to. Using the basement lets you have enough room to iron, hang up clothes, and hand wash! Also, having the noise from the washer and dryer contained to the basement might be better for when guests are over or when you want to get laundry done overnight.
Home Office
Working from home is a reality for many people, and you may be sick of setting up shop on the kitchen table. Why not remodel your basement to create a home office for work, doing the bills, or even just to have a quiet place to read? Add a bookcase, some good lighting, and a nice desk, and you have a perfect home office right in your basement.
Living Space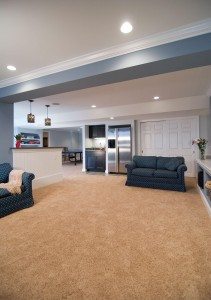 Using the basement as another living space can be enjoyable, especially if you remodel it to create a different vibe than your upstairs living spaces. A fireplace or warm lighting can create a relaxing environment to read, spend time with family, and entertain guests.
Guest Suite
Do you frequently have friends or family stopping by and staying the night? While that spare room upstairs might be functional, hosting them with a lovely suite in the basement for additional privacy would be even better! Add in an extra wall to create a bedroom, and the opposite side can be used for storage or even a workspace for the guests.
At Adroit Design Remodeling, we work with you every step of the way to create the basement of your dreams. Whatever your vision, our talented team can bring it to life, on time and in budget. Set up your basement renovation consultation today!